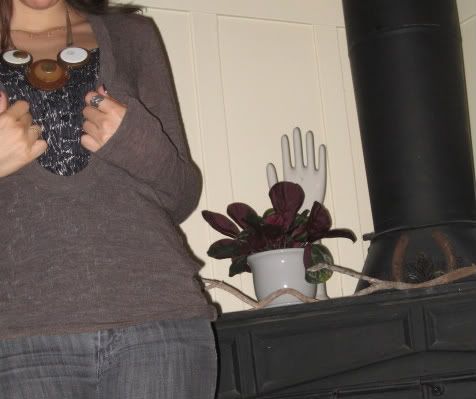 wearing shirt from Therapy, Velvet sweater, Marc by Marc Jacobs jeans, Forever21 necklace, Made by Elves booties
Please excuse these wretched unscientific photographs as proof that I get dressed in the morning. Because you'd never know it from my lack of outfit posts. My camera is still AWOL (I refuse to use the word 'lost'). I wasn't kidding about wanting a digital SLR, though. Do they even exist for less than $600 bucks?
I ordered these thigh-highs from Vicky's Secret instead of the Topshop ones because A.) they're real leather, and B.) they only cost $150 not $200 plus shipping. I hope they fit all right though. Methinks they'll come in handy when I GaGa myself on October 31st. Mmm...that sounds dirty.
you likey?