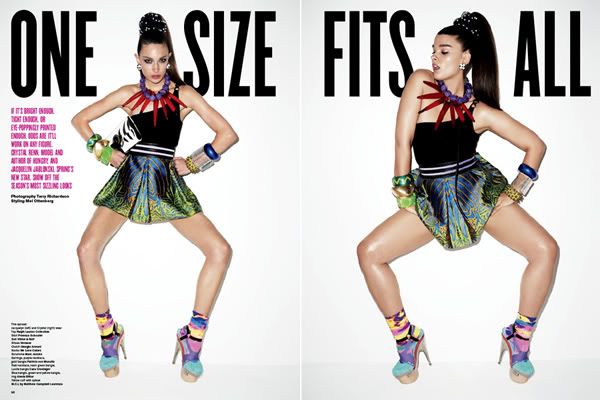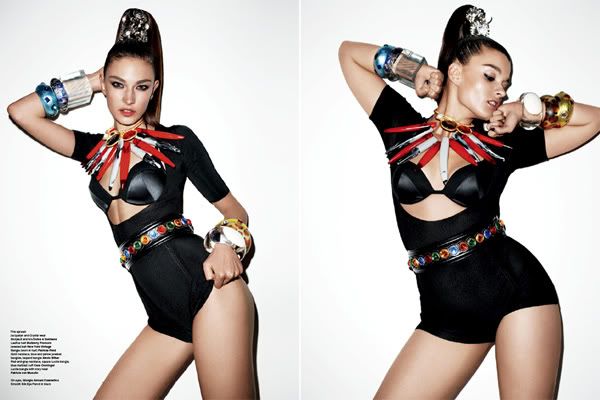 Ok, so everyone is (predictably) queefing over Terry Richardson's literal take on "One Size Fits All" for V Magazine. OMG, they put a like, fat girl right next to a skinny one! How fearless of them!
Well to anyone who thinks this "gutsiness" indicates a changing tide, I have news for you: it doesn't. It's just another obtuse take on 'edginess' from the master of sex and rock n' roll and record-holding penis-size owner Terry Richardson. Crystal Renn is gorgeous, but why pit her against a skinny model? Because let's be honest, the playing field isn't even. Our eyes have become accustomed to seeing designer clothes draped on the rib cages of women who look like they've just survived a week long bout with dysentery or stomach parasites. What good does it do to ease the eye into a more "realistic" (if you want to call it that--I can't think of that many people I know who are as jaw-droppingly gorgeous as Crystal) depiction of the female form by comparing it side-by-side with the status quo? Hardly seems groundbreaking to me.
In spite of this rant (wow, it feels good to write something longer than 3 sentences) I really think these are gorgeous photos. It's just a little tiresome to have all these people in fashion declaring the 'end of the skinny model' when you and I and your aunt Edna all know that's bullshit.
Here are some other editorials of Crystal that I really love: