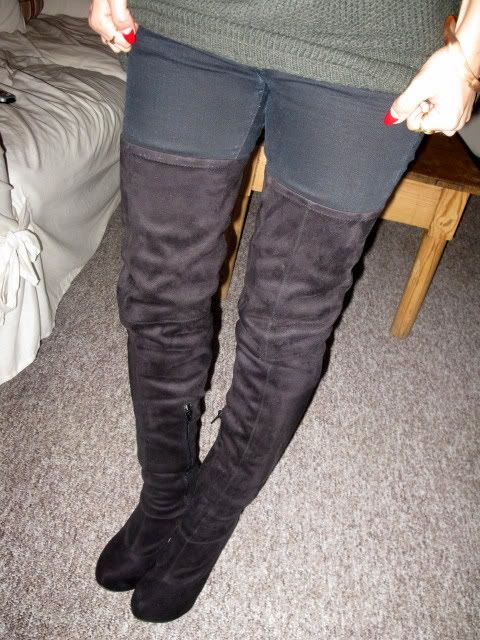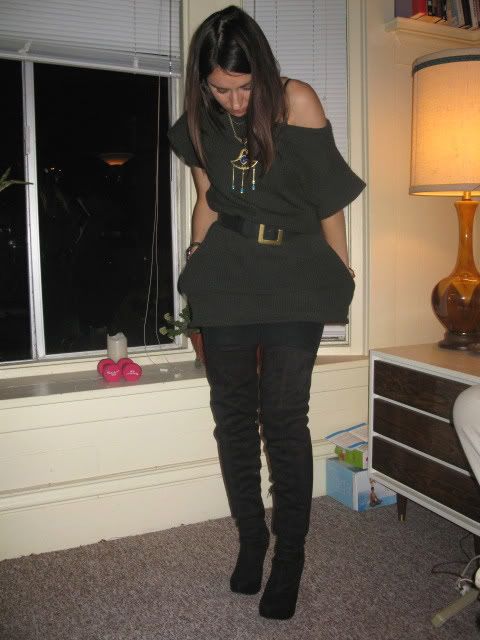 Top and bottom: Jeffrey Campbell boots, J Brand jeans, Zara tunic, mom's belt, vintage necklace. Middle: JC boots, J Brand jeans, H&M jacket, DIY shredded tee and vintage necklace
Well, it happened. I finally found the perfect combination of height, sex appeal, platform, and price point to suit my needs. And it feels sooooo right.
These beauties were waiting for me when I got home from work last night, and I wasted no time in trying them on with my black skinnies and new sweater tunic from a weekend Zara trip. At that point I had them pulled all the way up--which on someone of my diminutive stature means they reach well beyond mid-thigh. So when I wore them to work today I folded them under to a more demure mid-thigh level and paired them with my broke-ass Wal Mart version of a Chanel jacket. Because y'know, nothing spells class quite like hooker boots and fake Chanel.
I'm thinking of getting the boots hemmed so they hit right about mid-thigh. Is that a bad idea?