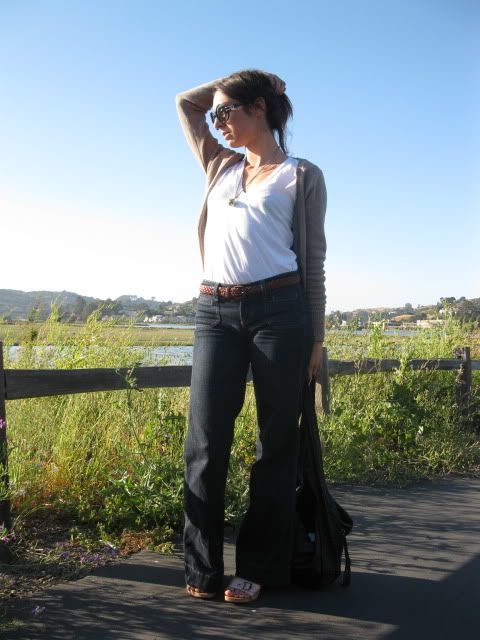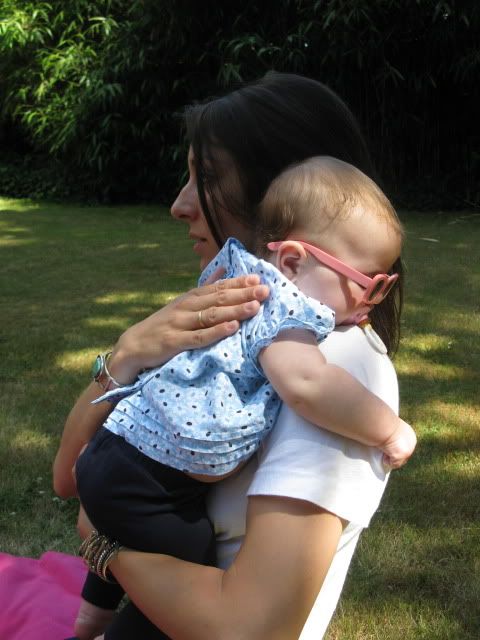 wearing AA tee, Old Navy jeans, vintage belt, H&M sweater, thrifted bag, vintage belt, thrifted necklace, Candies shoes (I know, I know. But I have an excuse! I got a pedicure and they were the only open-toed shoes I had at my parents' house!)
Meet my dear friend Kelli's daughter, Isabella. She may only be 3 months old, but as you can see, she already has bitchin' taste in sunglasses. How amazing does she look in the picture above with my boyfriend?
This weekend I:
- Indulged in some long-overdue baby time (god, how they grow)
- Played shuffle board (and sucked at it)
- Attempted to do some bank account damage at my favorite vintage/consignment store near my parents' house, but it was closed :(
- Fed Frankie Nutter Butters and gave him a bath
- Ate some Italian cheese that smelled like dead people's feet
- Finally got a manicure and a pedicure (after these pictures were taken, BTdubs)
- Worked, worked, worked
And now I get to go to bed. I'm starting to see a pattern in my life...it's all the same! Welcome to the next 40 years.