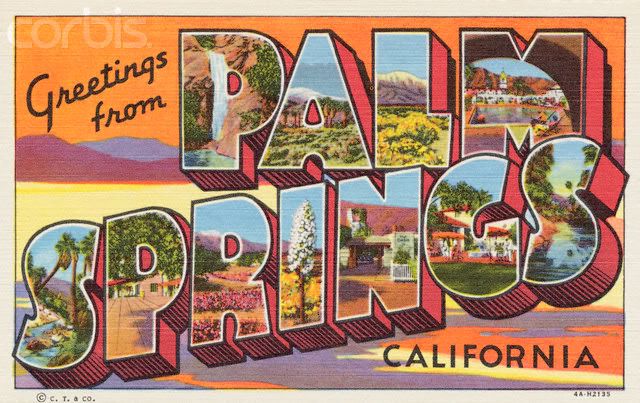 The title of this post is a reference to the argument my friend's mom once used to try and convince her that visiting her grandparents in Bakersfield, CA would be a bitchin' good time. We both laughed. Bakersfield sucks.
Anyway, I'm going to the REAL Palm Springs tomorrow with my parents for my mom's 60th. To be more accurate, we're driving there, which is going to take anywhere between 7 hours, 20 minutes and 8 hours (odds are with my dad behind the wheel, it'll be the latter). While I don't relish the thought of trying to sleep in the backseat of my mom's Explorer while the dog farts on me, I am looking forward to the rumored 80 degree temperatures and crazy good vintage stores. I've decided in advance that my period of shopping anorexia must be suspended for this all-too-grand occasion. My bank account is scared.
Below, my "fantasy" luggage, and some of the actual stuff I'm bringing with me. I'm usually a pretty light packer (my claim-to-fame is that I spent six weeks in Europe one summer with a roller suitcase small enough to be considered carry-on luggage). But in this case, I want to have options. One of the saddest parts about being unemployed is that I almost never have an occasion to get dressed. I must take advantage of this opportunity to put my clothing through its paces in front of a real live audience.
Alexander Wang
grey t-shirt
and
turquoise tank
; Balmain studded vest and fringed sandals; Wangler shorts;
Balenciaga
sunglasses;
Future Classics
dress; Dries Van Noten necklace;
Alexis Bittar
bangles;
Chloe
wedges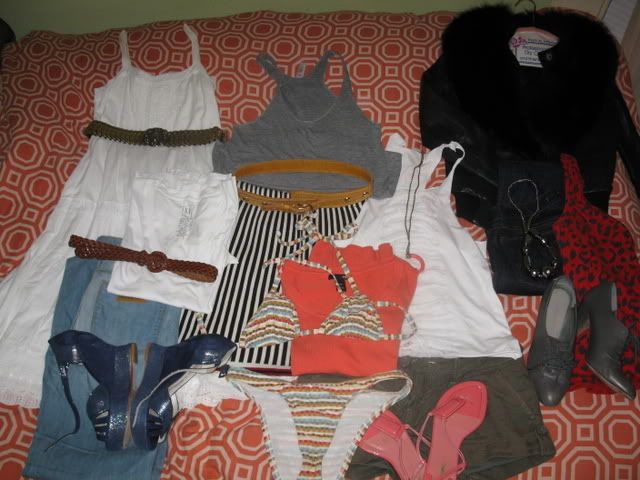 Forever 21 white dress; vintage metal belt; Gap white v-neck tee; vintage braided belt; Jenny Jen jeans; Terry De Havilland platforms; AA grey tank; vintage Joan Vass striped skirt; Linea Pelle yellow belt; H&M orange sweater; TnA bikini; Max Studio sandals; Forever 21 shorts, DIY shredded tank; Target necklace; ASOS leather jacket with vintage fur stole; J Brand jeans; H&M leopard print tank; vintage silver necklace; Made by Elves grey booties
Also, before I go to sleep tonight, I'm going to download three new albums:
TV on the Radio, Dear Science
Radiohead, In Rainbows
T.I., Paper Trail
Maybe I'll finally get the fucking Free Credit Report commercial out of my head.