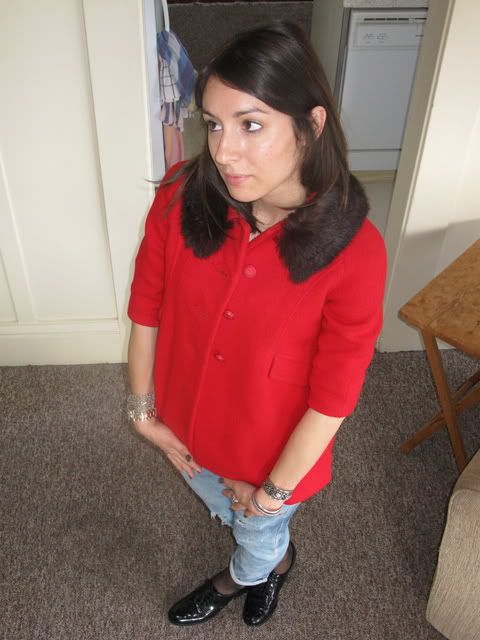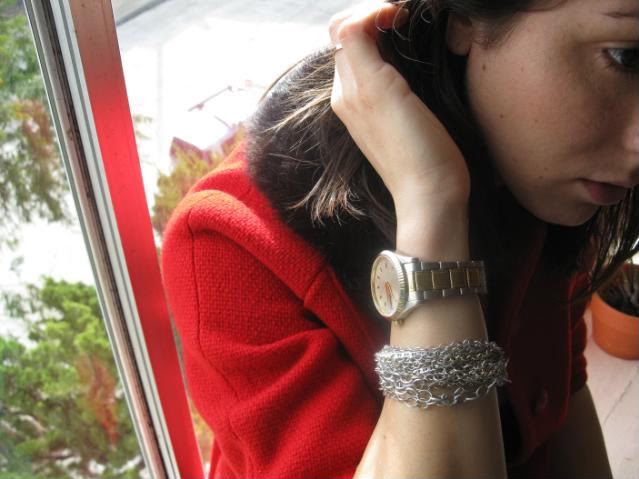 Wearing: vintage jacket, bleached/ripped jeans from Topshop, Free People sweater, Joan & David shoes, Victoria's Secret sheer nylons, bracelets are vintage/borrowed from sister/Lisa Levine, Timex watch
I found this little coat at one of my favorite vintage haunts in San Jose, Black and Brown. Given the fact that I can barely fit my weedy arms in it without busting a seam, I'm guessing it was made for a child. But I always thought it was kind of charming the way the sleeves hit at the elbows and of course I love the fur collar and bright, cheery red color. It sort of takes any outfit you're wearing and ups the fabulous quotient by about 1,000%. Aaand...I'm debuting my "new" old jeans featured in a previous post, which have now gotten the razor blade and sandpaper treatment, to stunning effect. It's like having a new pair of jeans that aren't new! I win!
And since you may be wondering why my pictures suddenly suck less, it's because I enlisted the help of my boyfriend to take the shots this time, which resulted in a substantially better product. Too bad I can't keep him around more often. He really does come in handy.