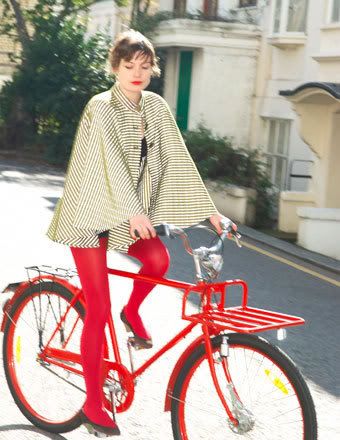 Today my boyfriend (who obviously misses me more than words can possibly convey) sent me an email with this subject: "If i were rich, this would be yours." Inside was a link to
Dashing Tweeds,
a textile company that somehow manages to incorporate reflective fibers into their garments so that you can ride your bike safely at night. And although their gorgeous, limited-edition capes are clearly out of my price range (400 GBP), it got me thinking that what I really need/want/don't
not
need is a cape. Preferably a plaid one, but any kind will do. So I spent some time searching ebay for vintage capes, and these are what I came up with: (Of course, none of these even come close to the beautiful offerings by Dashing Tweeds, so
honey, if you ever suddenly become possessed by
the urge to purchase one of them for me, by all means, knock yourself out
.)
I'm sad now because our fun in the sun is over, which means it's time to hit the C-list (craigslist) pretty hard and start worrying about a job again. But I'm happy because I get to see my boyfriend, my horse, and any second meet one of my best friends' new babies (she's due in like, 4 days!!). Oh, and it doesn't hurt that I got some fabulous goodies while I was here. Can't wait to post them all for you when I get back :)
ps
As a completely off-topic aside, I just learned that the inner rim of the eye (you know, the part you're always trying to get eyeliner to stay on) is called the waterline. Is this common knowledge that managed to escape my grasp all these years??