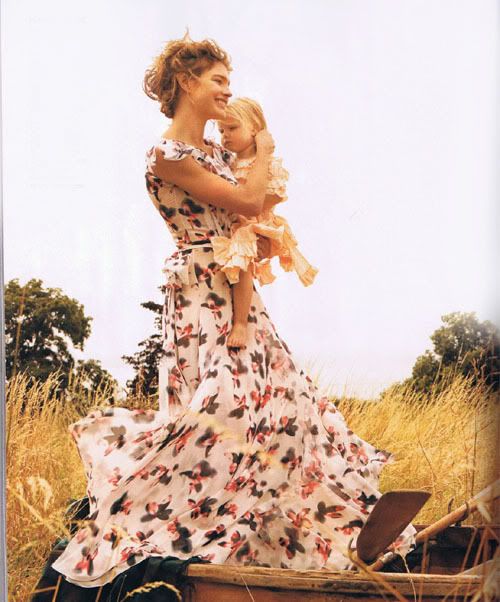 Natalia Vodianova and baby Neva shot by Mario Testino via
tatielle
I just got home from the only event important enough miss tonight's episode of The City for: my dearest friend Kelli gave birth to a healthy baby girl. I held her in my arms when she was just hours old and she looked right at me and it was just the trippiest, coolest thing that's ever happened.
Kelli is the first one of my friends to have a baby. I'll be the first to admit, it was a mistake. When she told me she was keeping it, I wouldn't talk to her for two weeks. I told her in no uncertain terms that she was crazy, irresponsible, and well on the way to ruining her life. In case you couldn't tell, I'm prone to fits of passion and harsh judgement. It's not something I'm proud of, but then again I didn't NOT have a point. I was just an insufferable bitch about it.
And then tonight I held this healthy, 9 pound, 1 ounce baby girl in my hands, and it all just made sense. She is beautiful, perfect, innocent. A gurgling mass of hungry and poopy and crying. I mean, don't get me wrong, I still don't get
it
but now I kind of
get it
, you know?? Babies. Weird.
Oh, and I got new shoes. I know, I know, totally inappropriate, but since that minor transgression has been so thoroughly eclipsed by the birth of a blessed child, it really does seem petty to condemn my behavior, doesn't it?