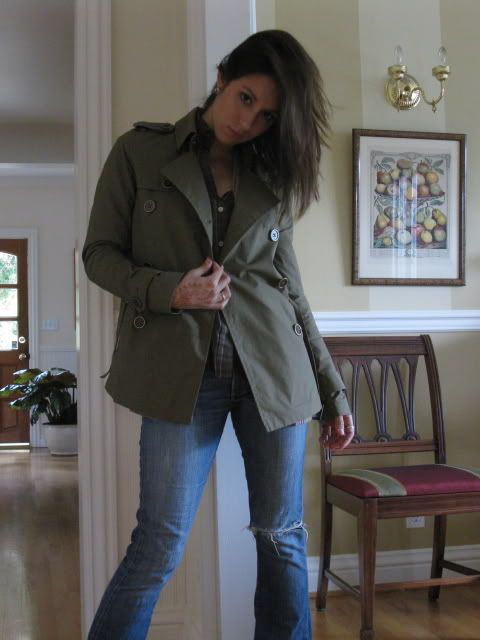 wearing Old Navy trench, vintage plaid shirt and cardigan, Paper Denim & Cloth jeans, grandmother's ring, H&M earrings, DKNY red tights, Minnetonka moccasins.
It rained all fucking weekend, even though the weather report said it was supposed to be looooovely. Figures. Just when we think we're getting a taste of spring, the sky pisses on us again for ten days straight. In case you couldn't tell, I suffer from seasonal affective disorder (self-diagnosed). How else to explain the perpetual bitchiness and lack of motivation?
Anyway, the inclement weather explains my rather pedestrian, unpleasantly utilitarian outfit. Let's hope things brighten up tomorrow, because I'm supposed to attend a St. Patrick's Day shindig which will necessitate the donning of several green colored garments not exactly suited to sleazy weather. I do have a perfectly lovely green peacoat which I left at my parents' house after dog sitting this weekend. D'oh!
Currently reading: The Kite Runner. I usually avoid reading any bestsellers because I am an incorrigible literary snob, and prefer the glacial pace of antiquated victorian novels and Russian War epics to what I call "lite reading." But I admit, I'm horribly out-of-practice when it comes to having a nightly reading ritual, and sometimes I need something a bit more palatable to whet my appetite for meatier literary subject matter. I'm open to suggestions if anyone has any, but only if they're good ones ;)