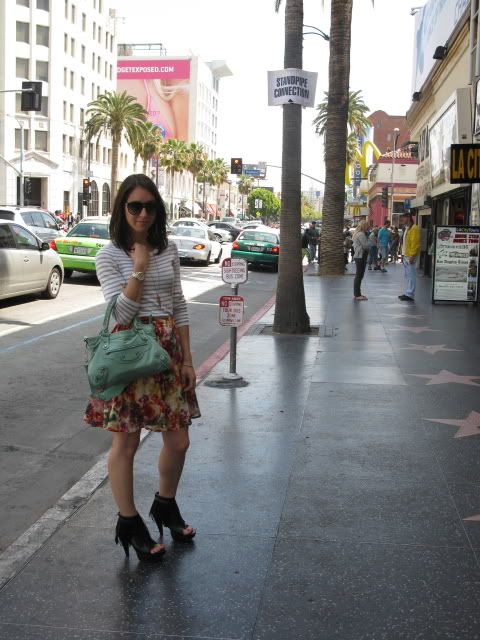 wearing Banana Republic striped sweater, F21 skirt and shoes, "faux-lenciaga" bag (even though "fakes are never in fashion)...
Sorry for being AWOL for the past few days. I'm in L.A. right now (er, Burbank if we're going to get technical about it) with my boyfriend and two other couples, and we're going to Disneyland tomorrow! Because why not? As they say in a little film called Friday, "you ain't got no job...and you ain't got shit to do." So when I ain't got shit to do, I go on the Dumbo Ride. Because that's how I roll.
Today we did the total L.A. touristy stuff because I've only been down here like 5 times and I'd never seen the handprints outside Grauman's Chinese Theater and all that other bullshit. We also went to Sprinkle's cupcakes where I tasted the best red velvet cupcake I've ever had in my entire pathetic life. And speaking of red velvet, I saw Phoebe Price posing for photogs on Rodeo Drive. Doesn't get much more L.A. than that, if you ask me. God, I could never live here.
I promise to get up to speed on comments when I get back on Monday. I still love everyone!