A pair of my "made in China" Wayfarers took a hit in the bottom of my purse at some point, shattering one of the lenses. So, instead of lamenting the loss of a pair of sunglasses, I made them into a pair of eyeglasses! Today I rocked them Buddy Holly style, with my "ketchup and mustard" outfit that sort of made me look like I should be working at
Hot Dog on a Stick
. Mmm... hot dogs on a stick are good.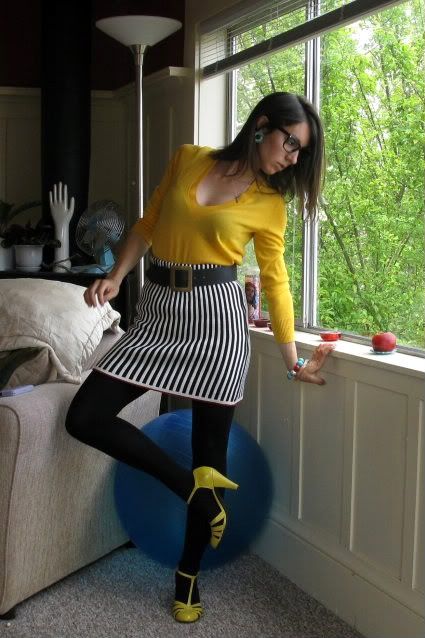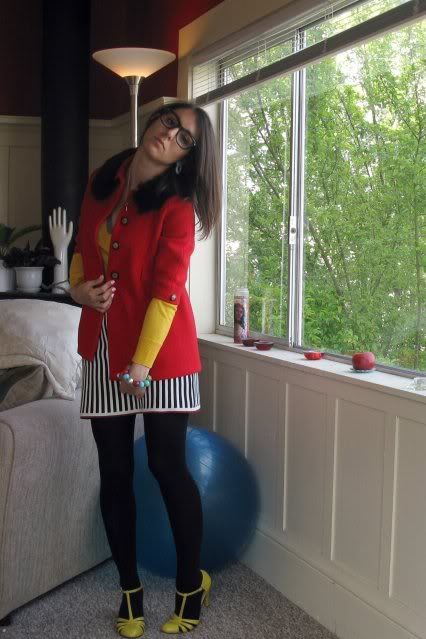 wearing, Banana Republic sweater, vintage Joan Vass skirt, vintage belt, earrings, and child's jacket, Betsey Johnson tights, Navid O Nadia shoes
Tonight I went to the ballet with my mom. I usually go a few times a year to see the shorter, modern performances at the San Francisco Opera House. As per usual, the show was spec-freaking-tacular. And I'm not gonna lie: there will always be a part of me who thinks that pointe shoes are THE ultimate shoe porn. I swear I took ballet for 6 years just so I could wear them. I have a serious case of ballerina envy.
While there, I ran into this chick I haven't seen since high school graduation. She was sitting two seats away from me in the same row, so we had to have one of those awkward "what have you been doing for the past eight years?" conversations while leaning over two people. It was pretty uncomfortable. Like, now I know what autistic people feel like when they try to socialize. That kind of uncomfortable.
Currently listening: Starstruck, by Santigold. Is it just me or is she the new M.I.A.?