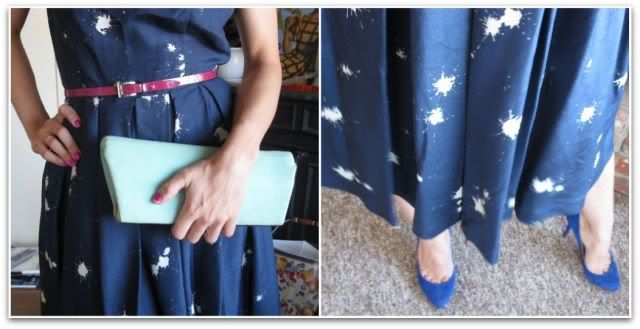 vintage dress, Banana Republic belt, vintage clutch, Christian Louboutin shoes
There must be some kind of a de facto ban on doing 2 nearly consecutive outfit posts wearing the exact same outfit. Too bad I'm a maverick! Ew, icky connotation. Ok, I'm a trailblazer. And besides, if I could wear this dress for seven days straight, I would. Watch me!
I ate a delicious meal tonight (lobster pasta in lobster cream sauce!) in honor of Mother's Day. Funny story, actually. I got this gift certificate to a restaurant called Bix like 2 years ago from my work. I never actually used it, so when I was really strapped for cash a couple of months ago, I sold it to my dad. Yeah, I know, it's pathetic. But I got $150 and then got invited to dinner anyway. Being a semi-spoiled Jewish princess ain't half bad. I highly recommend it.
Going into work tomorrow (even though my official start date isn't until a week from Monday) to meet Ashton Kutcher's marketing team. I think this job and I are going to get along just fine...
Hope everyone's weekend was lovely!